These days, everyone is trying their luck in email marketing to get more visitors to their websites or affiliate platforms.
Even if you are just a blogger using WordPress, you wouldn't want to send your important emails to your subscriber's spam or junk folder, which is hardly seen.
Why your emails go to Spam or Junk?
First thing, we have to understand why your emails are getting delivered in spam instead of the Inbox of your subscriber.
Bad Domain/IP Reputation: Most of us use shared hosting for websites or blogs, and in that case, we get the IP address used by many other sites on the same server. Unfortunately, you can not do anything if they do anything terrible and IP gets blacklisted by SpamHaus or any other monitoring organizations.
You check your IP reputation on https://www.barracudacentral.org/lookups
Email Content: Yes, thats right! even your email content has any spammy words, then there are chances that your email will not deliver in Inbox. If you are not sure if your content has similar words or not, you may use this simple tool to scan your content before scheduling for sending.
It is a free tool that provides you temp email and asks you to send that email, and when you send your email on this temp email, it will scan your content and show you the Score so that you modify it accordingly.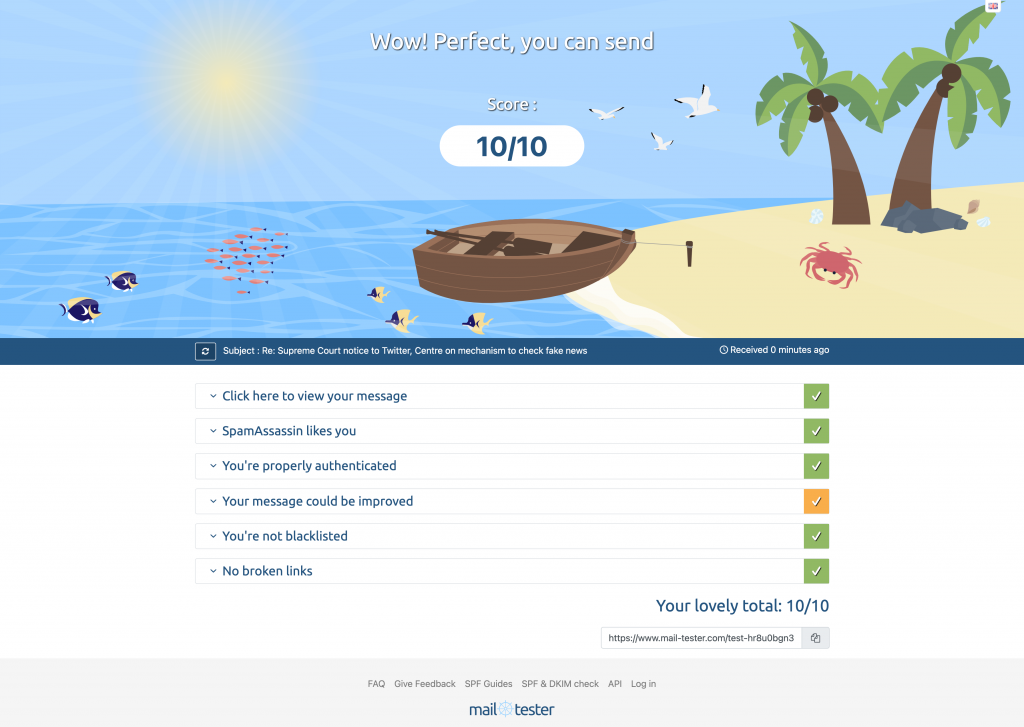 Let's talk about the solution for this common problem for almost every webmaster out there. I'll share Premium solutions, but if you can't afford paid solution for that, then there will be some free alternatives.
Bypass your Emails with SMTP
It is one of the best solutions if your emails are essential and you don't want any customer to miss your email. We are reaching about 89% delivery rate with this solution, and as its been 2 years, we are using it. I can bet you never get a better alternative to this…
Sendinblue SMTP Rely
If you are a WordPress user, then its straightforward to configure and use any custom build. the application can then contact your developer to configure SMTP instead of using the default Php Mailer from your server itself.
Send in Blue one of the best and Premium kind of SMTP service provider on the web, with almost 100% inbox delivery rates.
If you send your customers transactional emails like Transactions Details, Order Information, Other important communication emails, you should go with Sendinblue itself.

You can start a FREE ACCOUNT, which allows you to shoot 300 emails per day, and thats enough for a small website or blog.

And for the Medium/Large scan business, you have the options to upgrade for higher email sending limits and some additional features.
Wordpress SMTP Configuration Steps
Go to Plugins and choose "Add New"
Find Plugin Called "WP Mail SMTP by WPForms"
After Installation Activate the Plugin
You'll be Redirected to Setup Wizard and ask you to "Import Settings"
You Need to Skip this step
Choose "Other SMTP" in next SMTP selection window
Provide InInbox SMTP Credentials in next window and you are ready to go…
We are sending over 150000 emails every month with Send In Blue SMTP setup, previous we were using AWS Email solution but that was but expensive after free trier however I can say AWS is also is good option for premium customers.
Other SMTP Alternatives